Our Products
Finished Leather
we are specialized in small skin manufacturing: lamb, sheep and goat from Spain (Entrefino), France, New Zealand , North Africa, England. Our articles are designed for garment, leather good and shoe.
Products example:

French and Entrefino "Plongé"
The leather is dyed in drums with no finishing (no pigments). This is the most natural looking leather.
Full Vegetable :
Plongé: from New Zealand origin (EGYPT) or English origin (KEOPS)
A wide range of articles is available for shoe, leather good and garment :Shrunken, natural and pigmented, antique, nappa, waxi, Jaspe, nubuck, suede, double-face, Skivers Nappa, Destroy, Bombardier, Alabama, Jurassic, pekari etc...
Stretch plongé or stretch suede :
From New Zealand origin
From French origin
From French origin
This line is available in more than 60 references (plongé, suede, suede waxi, strass, python, printed, embossed, perforated, denim, metallic…)
Raw skin, pickle, wet blue and crust :
We have a wide offer in Lamb, goat and baby goat.
Products example: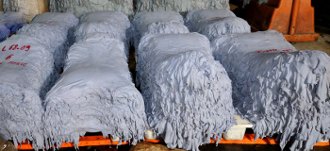 Vegetable Extract
We can offer Quebracho ATO, ATD, ATS, Mimosa FS, ME, Chestnut, Tara and much more.